Last week at the
DST Happy Place
I entered a comment to win Cassel's new script Quality Check and well I could not wait to win it so I purchased but Cassel is nice enough when you get anxious like I did that she will give a store coupon if you purchase it before she awards it so today I used my store coupon to purchase this awesome script for resizing ArtsCow digital scrap booking pages called Book Printing Took Kit - Artscow.
I am very excited to use this new script because I use
Artscow
to print my scrap pages as well as their awesome digital books. I have done my research and I have yet to find a company with better pricing on their hard bound digital scrap books or any of their products for that matter. Plus Artscow has GREAT sales promotions almost daily. All you have to do is sign up for their promotion emails and they start rolling in and I am telling you ladies they are great promotions on their wonderful digital products and they make the best gifts for any occasion. So stop on by DST Happy Place and sign up to win some great freebies, then head over to
Creation Cassel shop
and check out her awesome scripts/store and then do not forget to check out Artscow and their enormous digital products!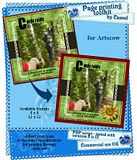 Book Print Took Kit-Artscow