I make my hubby's lunch to save money and well it started to get pretty boring for my man so I went online in search of some new lunch meals. Now they have to be a cold type meal because my hubby is on the road and has no access to a microwave on his truck. And I found tons of great sandwich recipes.

And now I have begun to test them out on my hubby and so far we have tried two sandwiches that I found on Kraft Foods recipe site. Now I know for some of you, that as soon as you see the names of these sandwiches or for those who made it past the name, lol and begin to read the ingredients might make a funny face, and say "that sounds gross", but don't! Because you will be sorry if you don't try out these new sandwich recipes that I found and have become mine and my hubby's new favorites :-)
The first one I tried out on my hubby was the Turkey Apple sandwich below. Click on the linked image below to go to Krafts to find even more GREAT recipes! This sandwich was just scrumptious and WOW a must try for sure! I would rate it a 10, yes a BIG FAT 10 :-)

2 tsp. MIRACLE WHIP Dressing
2 tsp. KRAFT Light CATALINA Dressing
2 slices whole wheat bread
6 slices OSCAR MAYER Deli Fresh Shaved Smoked Turkey Breast
1 KRAFT Sharp Cheddar Singles
MIX dressings; spread onto 1 bread slice.
TOP with turkey, Singles, apples and remaining bread slice.
The second sandwich I made for my wonderful man, was the Pizza Sandwich. Now now don't turn your head ups, like I said earlier - just try them first. And again I would rate this one a 10! I used both green peppers and another time an orange pepper and both were DELICIOUS!!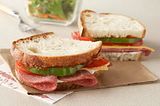 2 Tbsp. MIRACLE WHIP Light Dressing
8 slices OSCAR MAYER Deli Fresh Shaved Beef Salami
1 tomato, cut into 4 slices
SPREAD
2 bread slices with dressing; spread remaining bread slices with pizza sauce.
FILL bread slices with remaining ingredients, using 1 of each topped bread slice for each sandwich.
How to Serve Warm
To serve warm, place 1 sandwich on microwaveable plate. Microwave on HIGH 20 to 30 sec. or just until warmed. Repeat with remaining sandwich.
Make Ahead
Sandwiches can be made ahead of time. Wrap individually in plastic wrap. Refrigerate up to 24 hours before serving.
Serving Suggestion
Serve with a mixed green salad and your favorite fresh fruit to round out the meal.
I hope you will try them out and I would love it if you could come back and leave a comment on what you would rate it the sandwich, or what additions you made!

Have a great day!